Title: Riders
Author: Veronica Rossi
Age Group: Teen/Young Adult
Genre: Apocalyptic Fiction
Series: Riders, book one
Star Rating: 4 out of 5 Stars
I borrowed this book from my local library and reviewed it.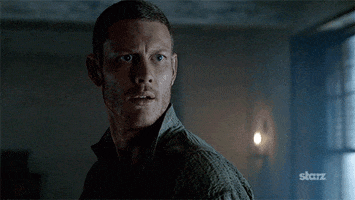 Veronica Rossi, where have you
been
all my life? I'll be honest: I bought the first two installments of her debut series, Under The Never Sky, on my first ereader. And they've sat there ever since. But when I saw Riders in our library system, I put a hold on it immediately. I was so excited, not just by the author, but by the premise of this novel. I mean--The Four Horsemen of the Apocalypse. I've been waiting my whole life for this book. (Confession: This is my first Veronica Rossi book, but most definitely not my last.)
I loved it. I really just did. The exciting, original premise, the unusual format, the characters, the pacing! This book has completely ruined my life, in the best kind of way. Can I have the sequel now? Like, yesterday? Because I just can't do this! (Between V.E. Schwab, Alexandra Bracken, and now Veronica Rossi, I don't know how I'm going to wait for sequels!)
Riders revolves first around Gideon Blake, an eighteen-year-old, kind of undead U.S. Army Ranger, who is the literal incarnation of War. The literal human(ish) embodiment of the concept. And there are, of course, three more Horsemen: Famine, Death, and Conquest. And they've been called for a mission with the very fate of humanity on the line. Add in a beautiful, dynamic young woman with lots of secrets and chemistry, some dastardly villains straight out of the pit, heart-pounding action and pacing, and some witty banter? That about sums up Riders, and I'm so excited for the sequel! One of my favorites of 2016! Next on deck: Lady Midnight by Cassandra Clare!