Title: The Diviners
Author: Libba Bray
Age Group: Teen/Young Adult
Genre: Fantasy/Historical Fiction
Series: The Diviners, book one
Star Rating: 5 out of 5 Stars
I bought this book and reviewed it.
I got approved for Lair of Dreams on Netgalley, and so, naturally, I had to break out my Kindle and reread The Diviners (I know, I know, I'm totally OCD.. Lol.) And let me just say that the second time around makes me love this book even more than I already do. It's one of my very favorite books of 2012, and I'm so happy to report to you guys that if this is your introduction to Bray's work, (save those of us who read her Gothic historical fiction series, The Gemma Doyle trilogy ;) ) you should definitely go to your local library, your bookstore, whatever you can, and make sure you don't have anything to do for a couple of days, because you won't be able to put this one down!
What do you guys think of, when you think of the Roaring Twenties? Maybe it's the Stock Market crash. Perhaps mobsters with big guns? Beautiful floozies in speakeasies, talking over cigarettes, drinking bathtub gin? The Great Gatsby? Bright lights, glimmering with endless possibilities?
For me, it's all of those things, and then some, plus this: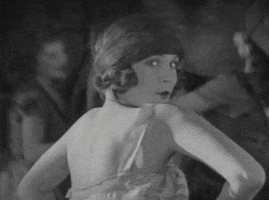 Where do I start with this novel? New York, in the 1920s, a baby vamp with spunk and some magical powers, dark, supernatural forces, love, passion, speakeasies, and an adorably awkward uncle?
Yeah, this is definitely my kind of novel.
The Diviners begins with a mysterious prologue, and then the novel turns to Evie, a young woman ousted from her home in Ohio for a party game gone too far. Forced to live in New York City with her Uncle Will, the proprietor of 'The Museum of Creepy Crawlies', she discovers that while the city offers plenty of fun, scandal, friendship, and of course, illicit alcohol, it is also hiding a dark secret, a secret capable of blowing the entire world apart.
Well, I think I've minced words more then enough in this review, so I'm no longer going to beat around the bush here: There was nothing about this novel I wasn't in love with. The setting was gorgeous, the pacing was breakneck, the prose was compelling, and often frightening, so much so that I was often having vivid dreams about the villain. I don't want to give too much away, for those of who who haven't read it yet, but this book is highly recommended for every reader, whether your cup of tea is historical fiction or fantasy. And if you like strong, kick-butt heroines, well, that doesn't hurt either. The bottom line: This gorgeous, dark confection of a novel, the first in a series, will blow everyone away--it was a fun, rollicking ride through New York in the Golden Age of Jazz! Next on deck: Lair of Dreams by Libba Bray!