Title: The Wishing Spell
Author: Chris Colfer
Age Group: Middle Grade
Genre: Fantasy
Series: The Land of Stories, book one
Star Rating: 4 Out of 5 Stars
I borrowed this book from my local library and reviewed it.
Does the name Chris Colfer sound familiar to any of you? Some of you might know him as the infamously catty and somehow still lovable Kurt Hummel from the smash hit show, Glee, which just ended not too long ago. Which, I'm kind of ashamed to say, is one of the reasons I picked it up.
Me, after reading this book: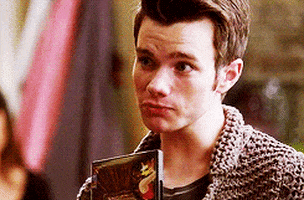 To say I'm surprised is quite an understatement. Honestly, the kid should just quit his day job, because, as talented as he is at acting, he can also spin a darn good yarn. This book was just. So. Good. It wasn't perfect, of course, but it was pretty close! From the lovely dedication to his grandmother, to the actual story, well.. I'm in love with this series, and as soon as my book pile dies down some, I'm going to run to my library and grab the sequel. (I NEEEEED IT, to quote a certain famous yellow sponge..)
The story starts with twins Alex and Conner, and when their grandma gives them the treasured
Book of Stories,
Alex, of the two, is strangely drawn to it, and through a tiny little mishap, they end up inside the actual book. (Inkheart fans, I'm looking at you! ;) ) Forced into a race against time, and one of fairy tale's most powerful and frightening villains, they find that the way home just might be closer than they ever imagined, if they ever make it out of this alive..
Chris Colfer, especially considering that this book is his debut, has a gift for writing beautiful prose, because that's what hooked me at first. And then there's the hook: falling into a story, into a different world! I was completely sold. This book was like coming home, like receiving a giant, much-needed hug from my favorite books. Honestly, it felt that way.
I loved the prose--it was beautiful and funny, dark and frightening, all at once. It was so rich and descriptive I had no trouble at all imagining the world that Colfer has woven for his readers. This book was an absolute delight, because not only did it spin fairy tales in a different way, the characters were new and yet somehow still familiar. It was lovely.
And then there are Alex and Conner themselves: Alex, the good student, but the lonely outcast, Conner, popular and friendly, but who is dismal in the classroom, who grow to be real heroes, through a wild and often risky journey, throughout a land that they know more than they realize. I loved their relationship--it was so much like a brother and sister--all bickering on the surface, and love deep down.
The pacing of The Wishing Spell was breakneck--I couldn't put it down once I'd begun, and it made me mad when I actually had to put it down.
Unfortunately, while I enjoyed many of the characters in the story, it kind of bothered me that the characters (particularly Red) were at times shallow, vapid, and selfish, and it was disappointing. I would've liked to have seen a more original interpretation of those beloved fairy tale characters. Regardless, though, this book is like a wild ride through a book of Grimm's fairy tales, and I really enjoyed it! The bottom line: Though there were a few characters that I didn't like, I really enjoyed The Wishing Spell--I will most definitely be looking forward to more from Chris Colfer! Next on deck: Ink and Bone by Rachel Caine!