Title: What We Saw
Author: Aaron Hartzler
Age Group: Teen/Young Adult
Genre: Contemporary Fiction
Series: N/A
Star Rating: 5 out of 5 Stars
I received a copy of this book from the publisher, Harperteen, through Edelweiss in exchange for an honest review--thank you so much!
Me, after reading this book: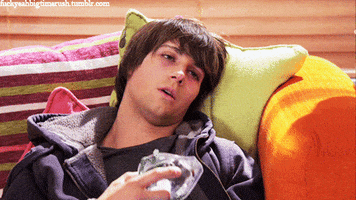 How do I explain my feelings on this novel? I'm pretty much emotionally exhausted after reading What We Saw. I'll start off with the most basic of my thoughts: this book is a searing exploration of what it means to be raped in today's day and age--and the often life shattering effects it has on the victim, as well as what it means for boys that 'will be boys'.
Obviously, rape is never, ever, okay, but this book hit me even harder because it was based in part on the Steubenville rape case. I remember when the case first hit the airwaves: I was disgusted, horrified, sickened. Not only had this horrible thing happened, it had been covered up, and social media only made the backlash worse for the victim. It happened here in Ohio, in my state, probably forty or fifty minutes from here. (For more information, visit this link: http://www.huffingtonpost.com/news/steubenville-rape-case/)
Aaron Hartzler's What We Saw was amazing, but it was also dark, terrifying, and often sickening. More often than not as the book went on, my stomach was turning, or I had to put it down to avoid screaming. I liked the way Hartzler used Kate, a fictional character at the catalyst of it all, to tell both sides of the story: the rapists, and the victim. It was utterly heartwrenching.
Kate has just found a niche, thanks to her best friend turned boyfriend, Ben, and she is thrilled to be included--that is, until she gets word of something terrible happening at the party she left the night before. A former friend and fellow student, Stacy, has just filed charges against their classmates, who just happen to also be basketball stars. The whole town explodes from the impact of this awful, inexcusable crime, and soon, everyone starts taking sides.
Despite the heavy subject matter, I loved it, and it brought up the more frightening points of what makes rape culture:
She was asking for it. She was drunk. She took her top off. She's been a slut since seventh grade.
It brings to mind, for me, that rape culture, even in 2015, is still raging and prevalent, and it needs to stop. But while making his points, the author doesn't come off as at all preachy.
This book needs to be read by all. Everyone. Teens and adults. It is eye-opening and dark, horrifying and sickening, but it is nothing less than a necessary, grim triumph. An amazing work of fiction, rooted deeply in fact. The bottom line: A necessary story rooted in fact, unafraid to go deep to speak the truth, What We Saw was a dark, essential story that should be read by all. Next on deck: Anna and the French Kiss by Stephanie Perkins!